As a business owner, it's essential to find the right avenues to market your products or services.
According to Statista, Facebook has almost five billion users around the world. That is more than half the population and a vast market for you to tap into.
Even more important to note, in July 2021, over 98% of active user accounts worldwide accessed the social network via any kind of mobile phone.
Advertising on Facebook requires optimizing for mobile, which is essential if you want to sell anything in today's environment.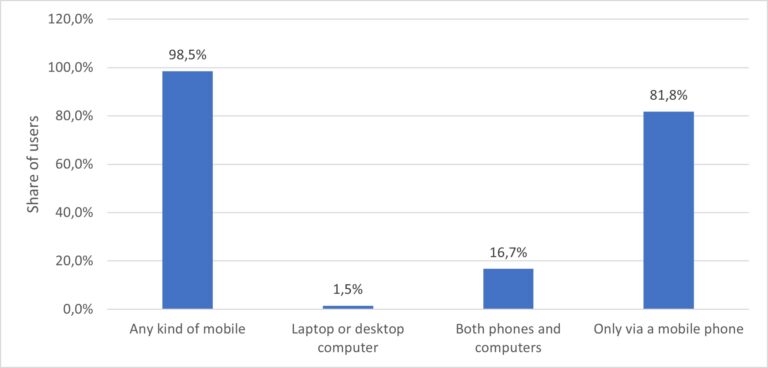 Facebook and Mobile Advertising
Facebook is a great advertising platform because of its large user base. Every ad you place on the platform is easy to target your specific audience. You won't waste time marketing to people who don't have an interest in what you are selling.
Mobile location tracking, along with Facebook's profile information, allows you to cater to a location-specific audience. You'll spotlight your ideal customer based on location so you're not wasting your marketing budget on people outside of your area.
However, you still need to prepare for the unique challenges of creating content that interacts with a mobile audience. For example, screen sizes may be increasing on phones, but that doesn't mean that text size is. To keep things optimized for a mobile user, you'll want to opt for large, legible text whenever you can.
You can then access information about the performance of your ads from their ad dashboard. The best thing about this feature is that Facebook ads are one of the cheapest options you will find online.
How to Start with Facebook Advertising
Getting started with Facebook ads is relatively simple. To begin, you want to familiarize yourself with the platform and the options available to you.
Facebook offers a range of ad-type options. Most ads will run in the news feed. These are the advertisements that show up in your news feed as you scroll through the posts. They can be text-only or include videos and images.
Users access Facebook on desktop and mobile, so having different types of ads will pay off in the long run. Since 2017, mobile traffic increased 46%, so optimizing mobile ads is crucial.
When people have a few spare minutes, they pull out their phones, so you need to reach them in this limited window. Using pre-populated forms hooks users and makes follow-through easier on them. Ask their name and email on the first page and allow them to click through. When their information auto-populates, they're more likely to continue on. Studies show that ads using pre-populated forms get an 85% opt-in rate, compared to 20% less in other ads.
Facebook has four basic ad types that you can create:
Collection
Carousel
Image
Video
Collection ads act like a catalog. It allows you to show a cover image or video and three product images. You can use it to create a shopping experience for your customers and an easy way for them to get to your website.
A carousel ad kind of looks like a scrollable display of your products. It adds an element of interaction with the viewer. You can include up to 10 images or videos of your products. This type of ad also tests the best and helps increase engagement.
Image is self-explanatory. Usually, you will use text that talks about the idea or provides more information to your customers.
An image ad is probably the most fundamental type of ad. It won't have as significant an impact as other ads, so you have to carefully choose your image to intrigue customers and ensure your text is engaging.
Video ads, while simple, are still very popular. Make sure that you include subtitles because many mobile users will keep the audio off when scrolling Facebook. Your video needs to be visually appealing to make them click the audio and listen to your ad.
The best tips for creating video ads that convert are:
Design your video to have the sound off, so include closed captions or subtitles, or have bold text overlays;
Get your logo or product into the video in the first three seconds;
Keep your videos under 15 seconds total, as people will be more likely to watch the whole thing;
Use square formatting over landscape as it formats better for mobile; video consumption on mobile has gone up 233% since 2013, with half of all video views taking place on mobile devices.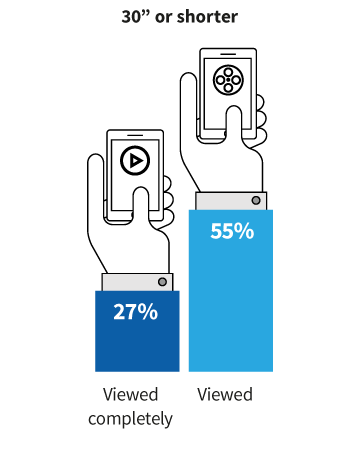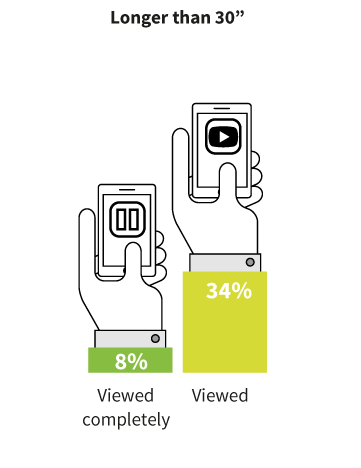 Another type of ad that you may have access to is the instant experience. This step starts with a simple ad on the platform, but when a user taps on your ad, it opens up to a full-page advertisement. It allows you to add more content and go more in-depth with the experience.
You also want to think about your overall objective for advertising on the platform. Buffer explains there are three general goals to marketing campaigns:
Awareness: Increase the interest or knowledge people have about your company, products, or services;
Consideration: Prompt people to want to look more into your business, products, or services;
Conversion: Move people to purchase from your company.
Defining your goal will allow you to more easily choose what type of ad to run and what content to put in it. It will also serve as guidance for your whole campaign.
Before you move into developing your ads, you need to define your target audience. These are who you want to see the advertising. They are the people most likely to buy from your company.
To be successful on Facebook, you must know your target audience. There are so many people on the platform that you cannot expect to stand out and make this marketing work if you do not ensure it gets in front of the right people.
Figuring out your target audience starts with defining as many details as possible about it. Here are some things to look for:
Where does your target audience live?
How old are they?
What language do they speak?
Do they have any specific buying behaviors?
What interests do they have?
Asking yourself these questions will help you narrow down your audience. Facebook has tools that allow you to customize your advertising. If you do not have a solid idea of your target audience, you cannot use these tools and get the best return on your marketing efforts.
The last step to preparing to market on Facebook is understanding the costs. The platform's expansive reach makes every cent you spend a better investment because your chances of reaching someone who needs your services or products are very high.
Considering your ROI with Facebook gives you two options: view-through attribution (VTA) and click-through attribution (CTA). When your ads show in users' newsfeeds, your VTA will increase due to autoplay functions. This figure gives you an idea of how many people are seeing your ads. Facebook gives credit for longer impressions, so VTA can still pay off with those ads.
Compare your CTA to your VTA to gauge the effectiveness of your ads. Subcategories like first-click attribution and last-click attribution show you when users click on your ads, which helps you narrow down what material they find engaging.
While this information is still crucial for any digital ads, it's especially important for mobile ads. These users are scrolling constantly, so you need to hook them quickly for your ad to pay off.
How to Create a Facebook Mobile Ad
One of the best things about using Facebook for advertising is the platform makes it as easy as possible. Facebook explains ads manager is a tool that lets you create, manage, and track your marketing efforts. The app contains everything you need in one place.
Start by creating a Facebook Business Page so you have immediate access to the ads manager.
Confirm your account information by going to your ad account settings. Set up the payment method you wish to use.
Now that you have your account ready to go, you can create your first ad. Facebook makes this simple by giving you a Create option.
Ads manager is intuitive, which means that as you select options, the program adjusts the future options that appear to you. It removes options that won't apply to your situation or meet your needs, streamlining the process.
The primary ad option is Auction. Some people may also have Reach and Frequency as an option, but Auction is the standard option.
To create a campaign for the buying type of auction, click create in Ads Manager. Then choose Auction as the buying type.
Select an objection and click continue.
A new pane opens to enter the campaign name and choose the ad category. You can also create an A/B test and set your campaign budget, either daily or lifetime, and set your schedule for running the ad.
Once you create a campaign, you can design the ad. Enter an ad name and select the associated Facebook account, which would be your business account.
Select the ad format, which can be collection, carousel, image, or video. All that's left is to choose the media, which depends on the ad format. You can upload pictures and videos for this.
Add other elements as needed. You may have the option to add a call-to-action button depending on your previous actions within the ads manager.
You should note that before Facebook runs your ad, it must go through an internal review. The team checks it against the company's policies for advertising and terms of use. You can check the status of your ad in the ads manager.
Optimizing your marketing campaign to include Facebook mobile-centric advertising is almost a requirement in today's market. A large majority of your customers likely use this platform and access it on a mobile device, so you have to ensure your marketing efforts consider this.
Luckily, even if you are not entirely familiar with Facebook, it makes its ad manager tool easy to use. You can set up a campaign and create ads in minutes to reach a vast customer base ready to buy from your company.
Actionable Insights Direct To Your Inbox
Subscribe to our email newsletter at the bottom of the page to receive all our updates.